Lawrencetown Beach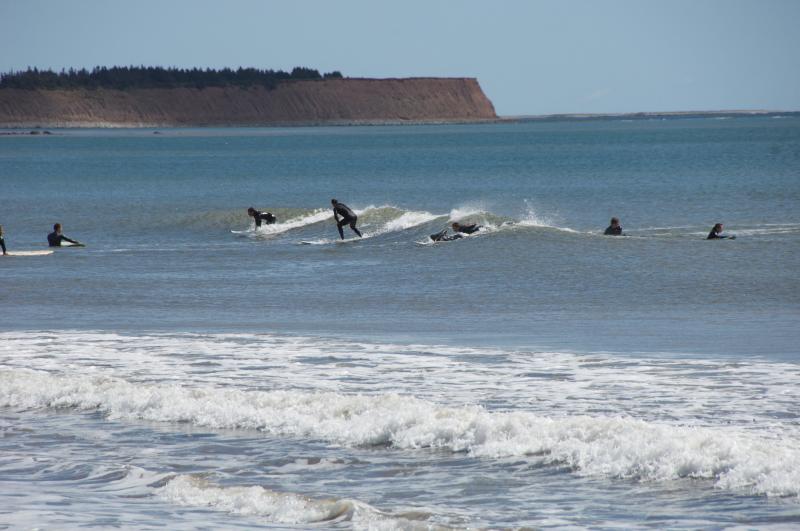 Nova Scotia's surfing mecca.
The spectacular view has been interpreted in oils, pastels, photos and the words of artists for decades. Experience it for yourself. Surfers, children and pets are just some of whom you may see enjoying the waves. Surfers of course, endure the waters all year round. Washrooms, change rooms, boardwalks, picnic areas and concessions are all available for your convenience.
There are several surfboard rental locations as well as several outlets for surfing lessons for one to choose from....and at a very reasonable price.
Lawrencetown Beach, a south-facing stretch of sand that unfurls lazily for nearly 1.5 km (1 mi), is renowned as a prime destination for local and international surfers. From your first breath-taking view of the beach and the sea as you drive along Route 207 from the hustle and cosmopolitan bustle of downtown Halifax just twenty-five minutes away, you'll fall under the spell of Lawrencetown.
Lawrencetown Beach is a provincial park and was one of the first beaches in the province to be supervised by the Nova Scotia Lifeguard Service who have been on duty there since 1973. This beach is a local favourite. Families, couples, hikers, mountain-bikers (loving that great trail system near the beach), and body-boarders share the beach life with the dedicated surf crowd.
For nature enthusiasts, Lawrencetown Beach area is home to lots of watchable wildlife. The beach is also the site of all kinds of activities and events. Go on an active outing like a guided flora and fauna walk or sign up for the annual Cyclesmith Duathlon that starts at Lawrencetown Beach. Whatever your interest there are organized events to suit you at Lawrencetown most months of the year. Of course, you are welcome to just relax and take in the surf and the sand.
Beach Safety
The following is an extract taken from the website of the Nova Scotia Lifeguard Service:
Lawrencetown can experience exceptionally high surf conditions as a result of tropical storms and hurricanes.
In 1995, the lifeguards closed the beach for swimming or restricted beach use to a limited area on six days. Considerable media attention was received as surf conditions peaked at over four metres on several occasions. Lawrencetown's rough conditions can create many currents and rips which can be dangerous for non-confident or weak swimmers. Distressed rescues during high surf days at Lawrencetown are not uncommon. The lifeguards supervise a 200 metre area situated close to the lifeguard hut and canteen area. The lifeguards open two lifeguard stations on busier days and incorporate regular walk patrols to keep swimmers away from rips, or higher surf areas like the reef. Beach conditions are recorded daily by lifeguard staff and can be accessed by calling the Beach Line. Lifeguards at Lawrencetown will encourage swimmers to stay between the flags and to keep the surfers and body-boarders out of the supervised area.
Panorama's

Courtesy: Destination Halifax
Select a link below to view a 360 degree Panorama (java required).