French Point Lighthouse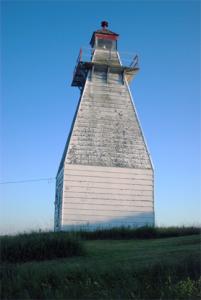 The French Point Lighthouse is one of the two Musquodoboit Harbour Range Lights. French Point is the rear lighthouse.
At the end of the Kent Road at Pleasant Point stands the French Point lighthouse, This lighthouse, though not in use, is one of three lighthouses that remain standing on the Eastern shore, the only one in HRM accessible by land. No public access to the lighthouse is permitted, but it is a great photograph opportunity! The lighthouse, or in mariners' terms, the leading light was used for years for navigational purposes to ensure the safety of fishermen and other vessels entering Musquodoboit Harbour. It is on private land - Kent Island, although the actual "footprint" where the lighthouse stands is owned by the Federal Government. This was to allow access to the lighthouse by The Canadian Coastguard for maintenance purposes. There is a program which allows for non-profit organizations to take over "care and maintenance" of such lights that are no longer considered needed. Applications have been made and it is hoped that the lighthouse will be transferred in the near future to such a group. Many tourists travel to see and photograph the lighthouse - officially known as French Point Light.
Directions:
Travel east on Highway #7, The Marine Drive, from Musquodoboit Harbour for approximately 3 Kms. Turn right onto Ostrea Lake Road and proceed for about 10 Kms and turn right onto Kent Road and cross the small causeway to Kent Island. Please respect the fact that this is private land when photographing the beautiful scenery.
For information on the Front Range Lighthouse: link
Photograph compliments of www.lighthousefriends.com