Musquodoboit Harbour Front Range Light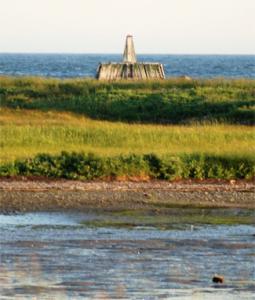 Location: On top of a pier on Shag head at the entrance to Musquodoboit Harbour. Travelling East of Musquodoboit Harbour on Hwy#7, turn onto Ostrea Lake Road. Travel in approx. 12.4km in where you will get a distant view of the Musquodoboit Harbour Lighthouse, just past the French Point Lighthouse
Latitude: 44.694902 Longitude: -63.078185
Musqodoboit has two range lights, the front and rear and were built in 1904. The French Point Lighthouse is the rear light which was built in the traditional pepper shaker design at the time. After the front light was built offshore, on Shag Head, it was discovered that the two lights did not range properly, as they were meant to do. In order to solve this problem, a 3.7 meter extension was added to the rear light on the French Point Lighthouse. Because of this extension, this is the only lighthouse with this shape that can be found in Nova Scotia.
Jeremiah Kent was the original keeper of the front light and John Kent was the original keeper of the rear light. The light keeper duties remained in the Kent family until 2002.
The property is privately owned and permission should be asked to park on their property.
Photo and information compliments of www.lighthousefriends.com
For information on the Rear Range Light- The French Point Lighthouse: Read more
See also French Point Lighthouse