Martinique Beach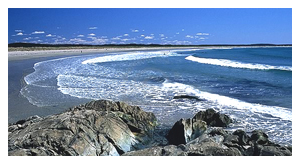 This is Nova Scotia's longest natural sandy beach, adjacent to it is a large bird sanctuary. There are washrooms, change rooms, parking and picnic areas. Plenty of room for surfers, bird watchers, swimmers and beach enthusiasts alike.
With 5km of ocean beach, this local jewel is just waiting to be explored. The beach is a nesting site for the endangered Piping Plover and is located adjacent to a bird sanctuary. Take a picnic lunch to enjoy in the picnic park and spend the day indulging yourself in your favourite beach past time- bird watching, body surfing, beach combing, cranberry picking (in season) and to end the day-watching the sun go down and gaze at the stars twinkling in the sky while listening to the waves gently breaking on the beach.
Beach Safety
The following is an extract taken from the website of the Nova Scotia Lifeguard Service:
The lifeguards supervise an area of 200 meters. The surf is fairly consistent throughout the summer at 2-4 feet. Occasionally, the surf is larger and more dangerous which can create many currents and rips which can be dangerous for non-confident or weak swimmers. There is a gentle slope. Beach conditions are recorded daily by lifeguard staff and can be accessed by calling the Beach Line.
Panorama's
Courtesy: Destination Halifax
Select a link below to view a 360 degree Panorama (java required).