4th Annual Nova Scotia Forest Festival
Grab Your Plaid and Head for the Woods!
The Nova Scotia Forest Festival is a showcase of the many ways Nova Scotians connect to the Province's forests for their livelihood, housing, recreation, food, and heritage. Come and enjoy an array of activities for the whole family in the fresh fall air!
The Cookhouse will be serving traditional lumberjack meals on enamel plates and bowls, just like back in the day! (Your choice of a bowl of Soup or Baked Beans, along with brown bread, gingerbread, and a beverage. All cooked and baked according to traditional recipes!) The Nova Scotia Forest Festival is rain or shine, so come on out no matter the weather!
3rd Annual Eastern Shore Golden Axe-Throwing Tournament
Find out who has the chops!
Support our local businesses while they go axe head to axe head to see who will take home the 'Golden Axe' (and bragging rights until next year)!
Please Note: Memory Lane Heritage Village has free-roaming farm animals on site and does not allow pets within the Village grounds.
October 3rd, Saturday,

11:00am

-

4:00pm
5435 Clam Harbour Road, Lake Charlotte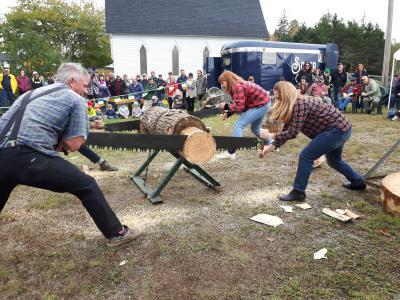 Lumberjack demonstrations at the Nova Scotia Forest Festival